AVM Gardens
A one of a kind multi functional venue to meet & celebrate
Lovingly restored to its former glory, our iconic residence exudes heritage & charm.
Enter the marble floored halls and you'll be greeted at our evocative event space that harkens back to the golden age of cinema. The large, fully air conditioned wide halls are ideal for all kinds of celebrations and exhibitions. The wide glass immaculate windows have beautiful views of the lush garden. A sunken dining area abuts the kitchen which can be accessed from the back of the house for disturbance free convenience. Additionally, there are two large bedrooms with attached bathrooms making this an ideal venue for day long events.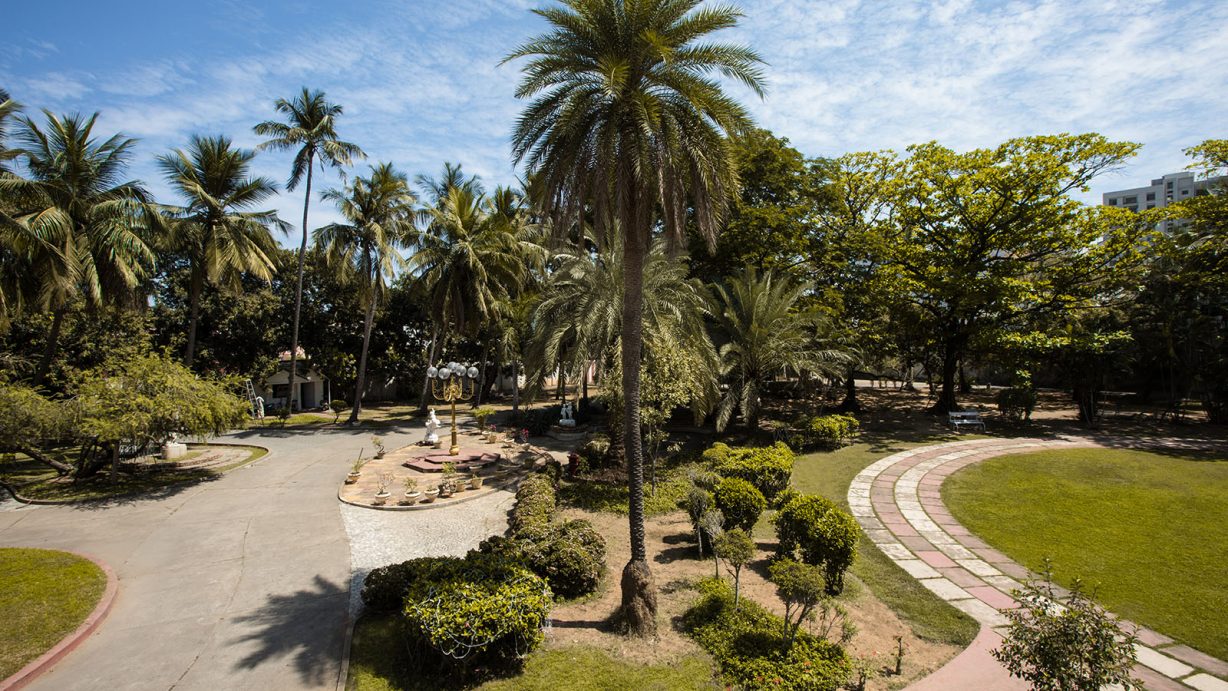 Perfectly Manicured Lawns
that are a breath of fresh air
The well-manicured lawns amidst 36 grounds of lush greenery lead to a raised central gazebo, ideal for a birthday party, performance, or mehendi ceremony. At the far end of the property is a waterfall leading to a cute little Japanese style cottage. This along with a rocky pathway that leads to a bridge, is a delightful location for children and adults alike.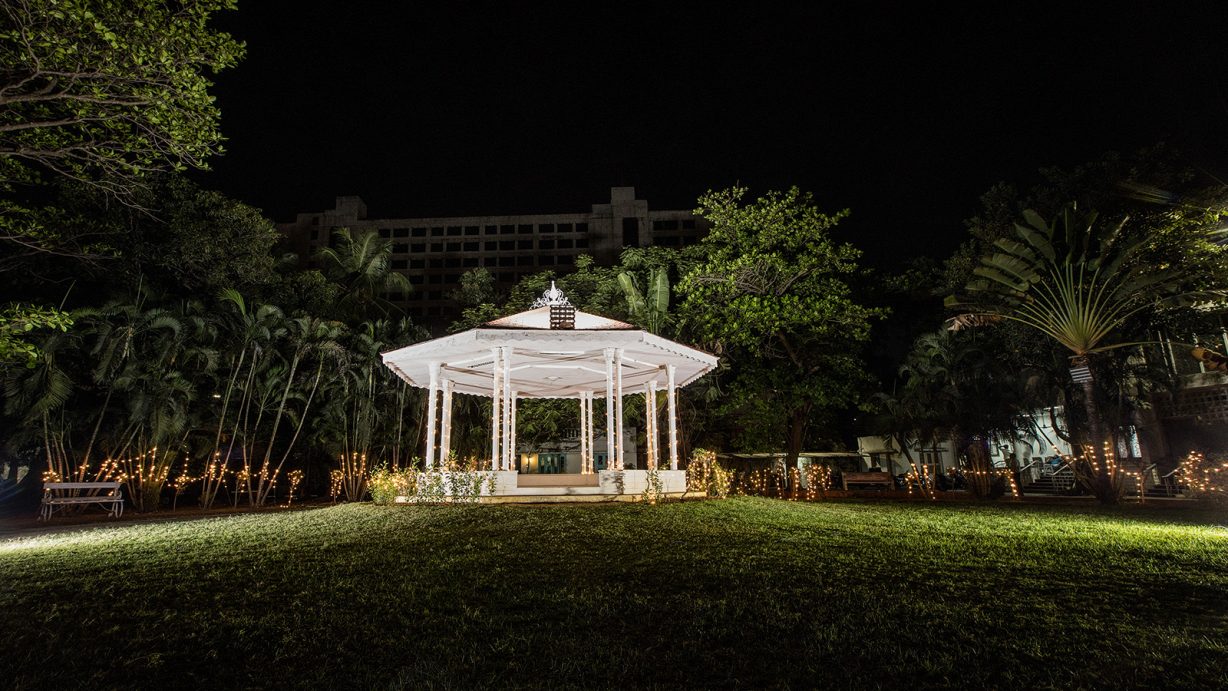 A Magical Wonderland
with fairy lights in the night
This venue transforms into a magical wonderland with fairy lights in the night. The floodlit trees cast dramatic shadows and the fountain in the front of the house comes alive with the lights highlighting the grandeur of the Bungalow.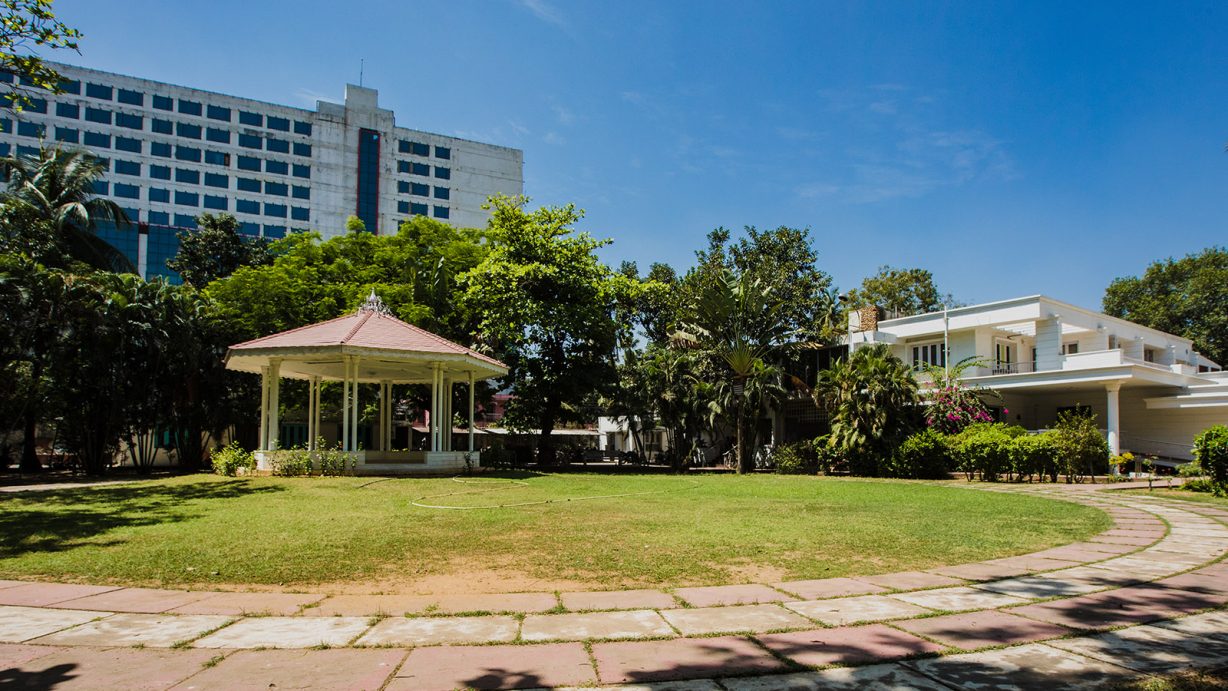 The Perfect Venue
for unique event experiences
Whether you are hosting a social gathering or an elaborate function, AVM Gardens has the perfect event space to offer you and your guests a distinctly unique experience and is guaranteed to enhance your most cherished moments.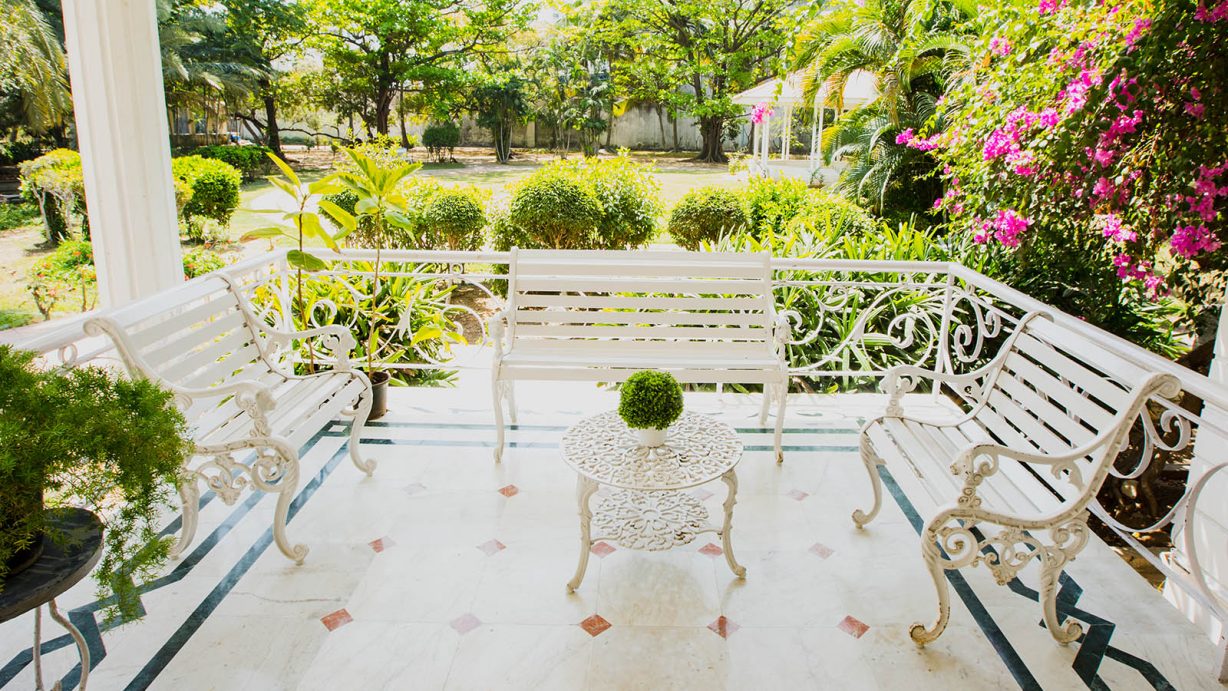 Awe-Inspiring Heritage
with nostalgic architecture
Within our awe-inspiring heritage building and vibrant garden area, we have all that is required to make your dream event come to life. From set-ups for engagements to weddings to corporate events to retro-vibe cocktail evenings, we are open to any creative and conceptual challenges. Together let's make your event an inimitable and extraordinary experience.
AVM Gardens is an urban oasis located in the heart of Chennai inside AVM studio complex but away from the hustle and bustle of Arcot road.
13.5
km
FROM NEAREST AIRPORT
What our patrons have to say
I have been associated with AVM right from my childhood days and I have shot many films in this house right from the first movie which was shot here (Aboorva Ragangal) by Director K Balachander. It is very close to my heart and I have a lot of fond memories.I am very happy that they have now started this new venture and I wish them all the very best. My support and best wishes will always be with them
I would like to congratulate AVM on the launch of their new venture AVM GARDENS for events. I have been lucky enough to do several movies over the years and moved on to Tele serials in this venue. It is an ideal location and had been maintained to a very high standards. I wish them success and my support will always be with the team.
I attended a friend's party at the AVM Gardens
in March 2018 and was stunned by the beautiful landscapes that surrounded the charming bungalow. The ambience was breathtaking and I was surprised to have found such a delightful location in the heart of the city. I definitely recommend this venue for a memorable experience.
A few years back, we had His Holiness Sri Sri Ravi Shankar ji visiting the AVM Studio House which is in the heart of Chennai. The place has a large house and a beautiful garden and the sprawling area provided the right ambience for Meditation and Satsang with Poojya Gurudev.
Over 200 people participated in the event and I still cherish that day for its peace & tranquility, enhanced by the presence of the Art of Living Devotees.